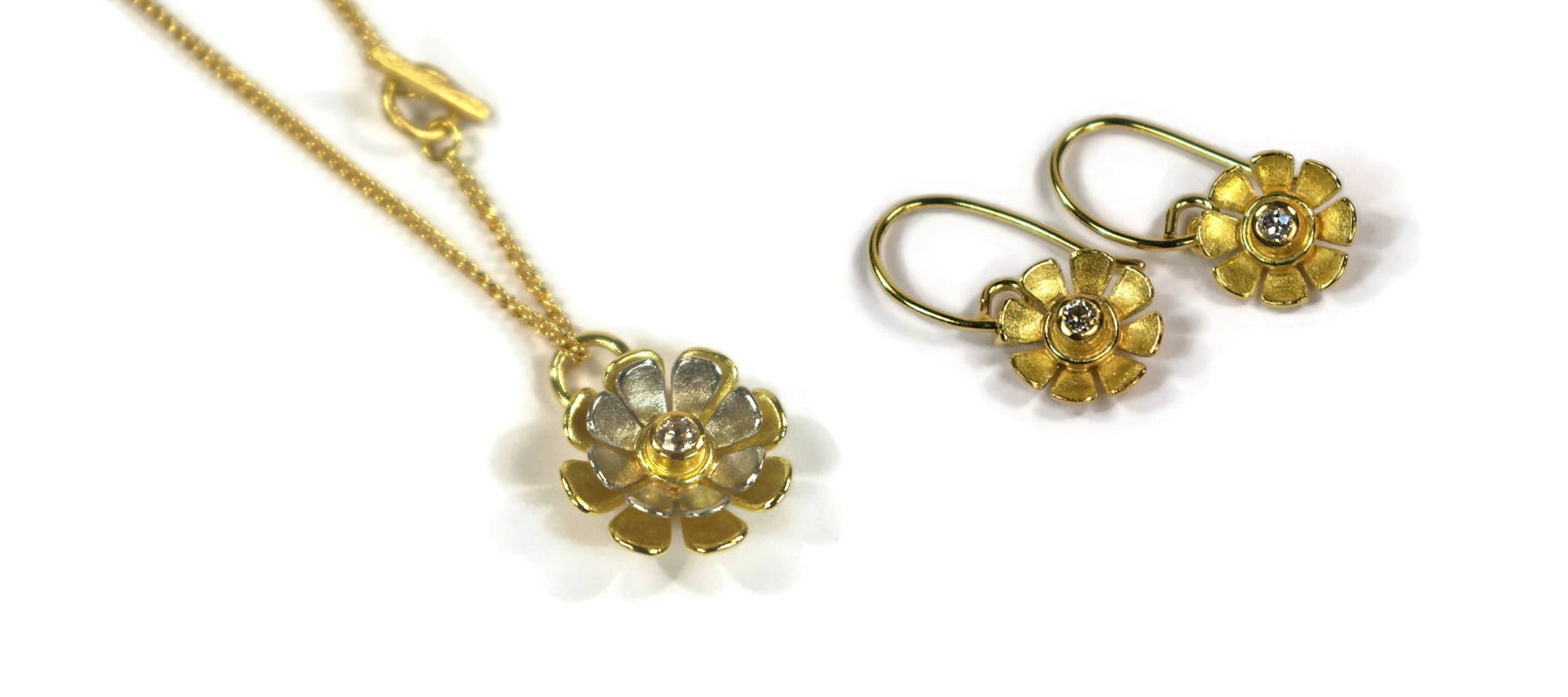 Custom Bespoke pendant & earrings
Luane's Remodelled Gold, Platinum And Diamond Daisy Pendant And Earrings
(The Ones The Horse Stood On!)
Luane's pendant was one of the first daisy pendants I made dating back to 2007 - not my first flower piece - but the first time I had made a multi-petal double layered pendant.
Luane knew she wanted a 'pretty' flower design necklace that was wearable every day, but she didn't quite know what exactly this would look like.
She had seen previous flower pieces of jewellery that I had made - both a buttercup pendant and a box constructed flower pearl necklace (pictured below) - and she liked both - so these were the starting points for our discussions.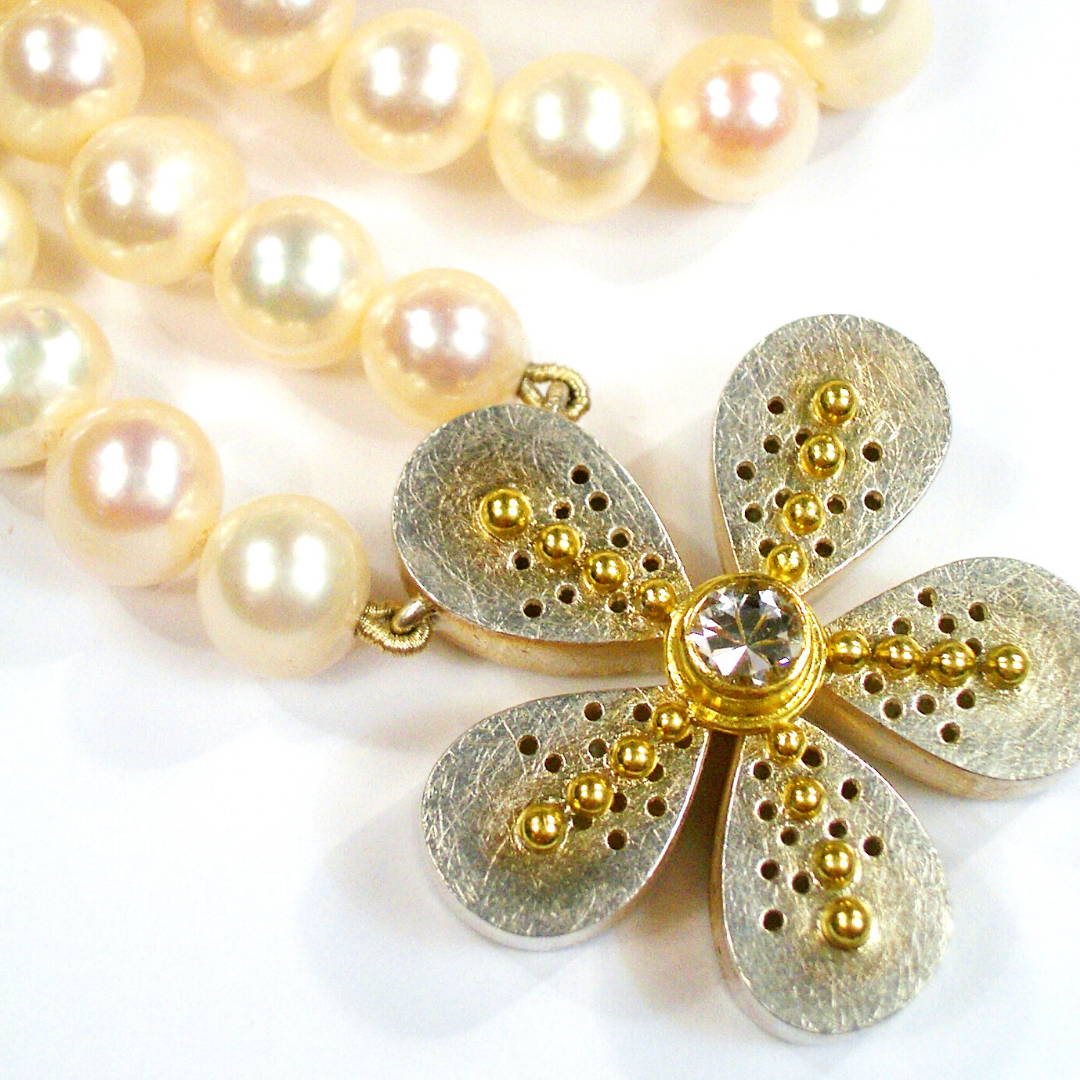 Silver, Gold & White Sapphire Flower Pendant On White Pearls.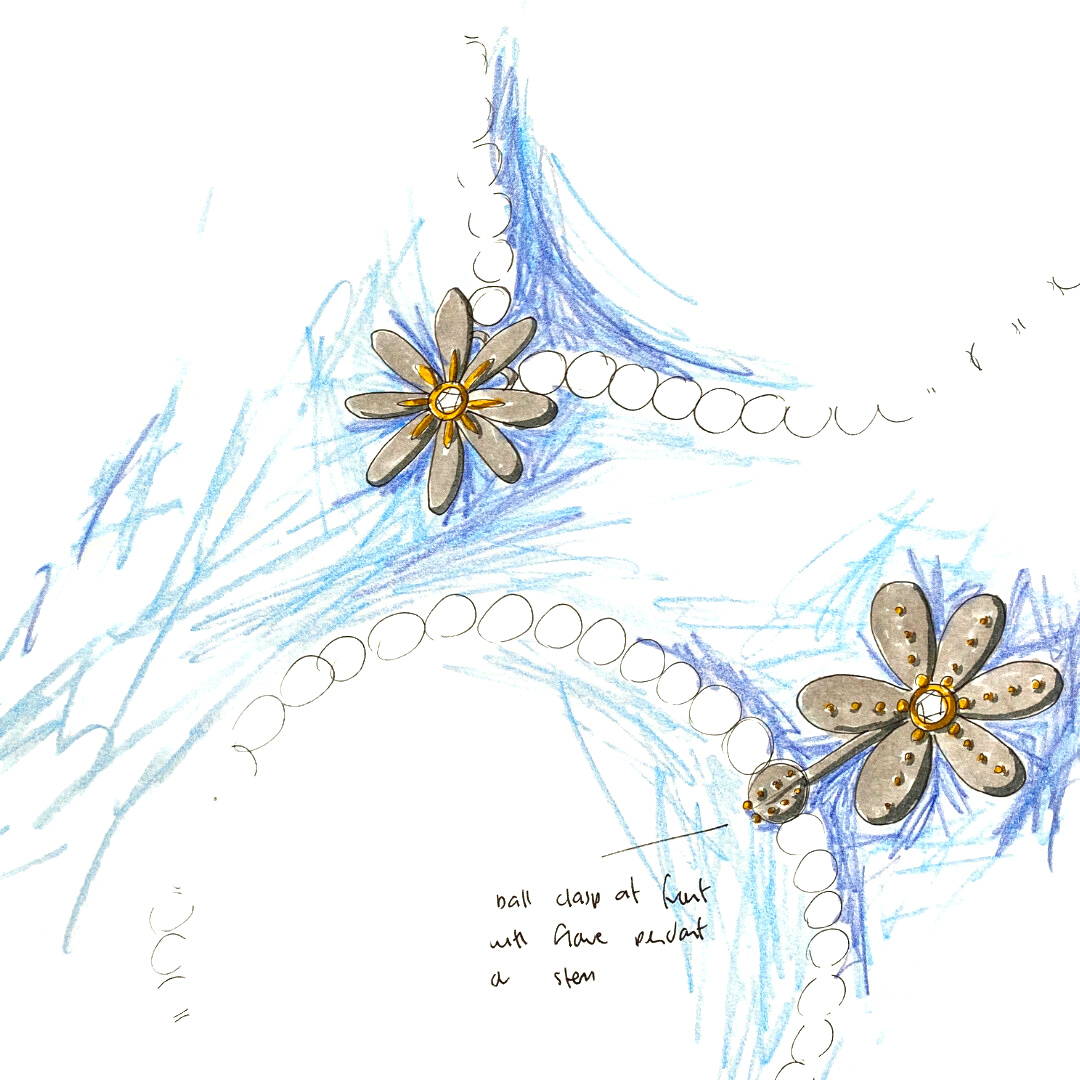 Design Sketches for floral pearl necklaces
I have made many pieces for Luane over the years, and for this design we knew we would be remodelling a few of her sentimental pieces - some gold rings and a long platinum bar brooch.
Luane went with the idea of a smaller pendant, rather than the larger pearl pieces I made, and she picked the daisy idea from my sheet of design drawings as the template to base our daisy form.
We were thinking about daisies being white, so using the platinum for this and then bringing in the yellow gold for the daisy's yellow centre.
We also thought about whether Luane wanted to include a daisy 'stem' in her pendant or if she just wanted to go with the flower head.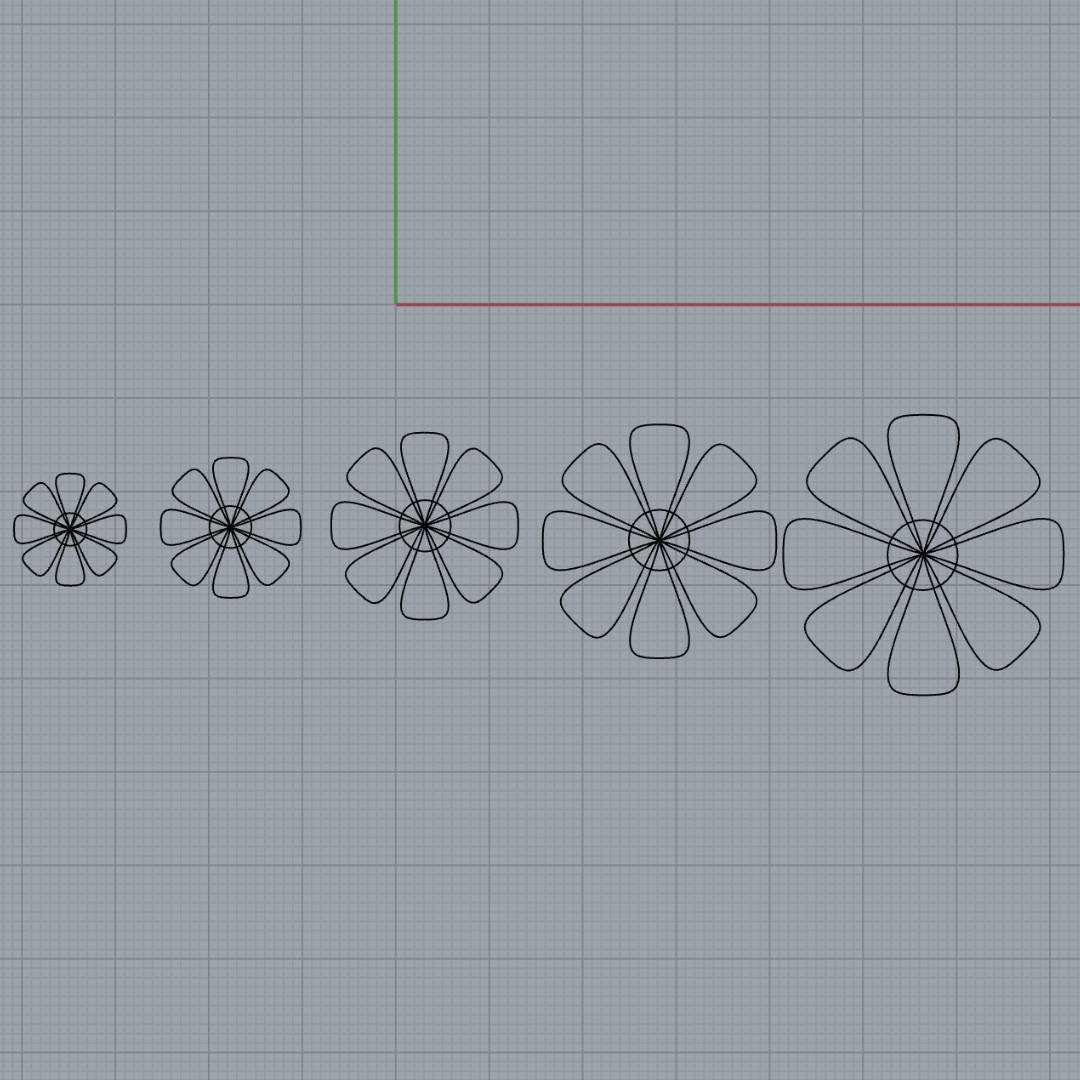 I used CAD To Map Out A Design Template For Luane's Pieces
We had a lot more 18ct yellow gold to work with than we had platinum. So when it came to making the pendant, we decided to flip our idea of a white metal piece with a yellow highlight. Instead we went for a yellow gold daisy with white as the highlight.
Luane's sentimental gold was melted down and remade into an ingot for sheet and wire to construct the outer petal of the daisy.
The inner petals for this pendant were made out of a long strip of platinum that came from Luane's original bar brooch. The bar was cleaned and then milled out a little thinner and I hand-cut each of the petals individually so that we could use as much of the platinum as possible. 
So that's 8 separate little petal units - all cut, hammered, carved, filed and soldered together to make up the inner set of petals! Phew! That was a tricky component to construct!
We set the middle of the pendant with a little top-hat setting that included one of Luane's diamonds which came from the original rings we had re-melted.
To finish it off, we added in a chain and I hand-made the t-bar and loop clasp - also from her sentimental gold!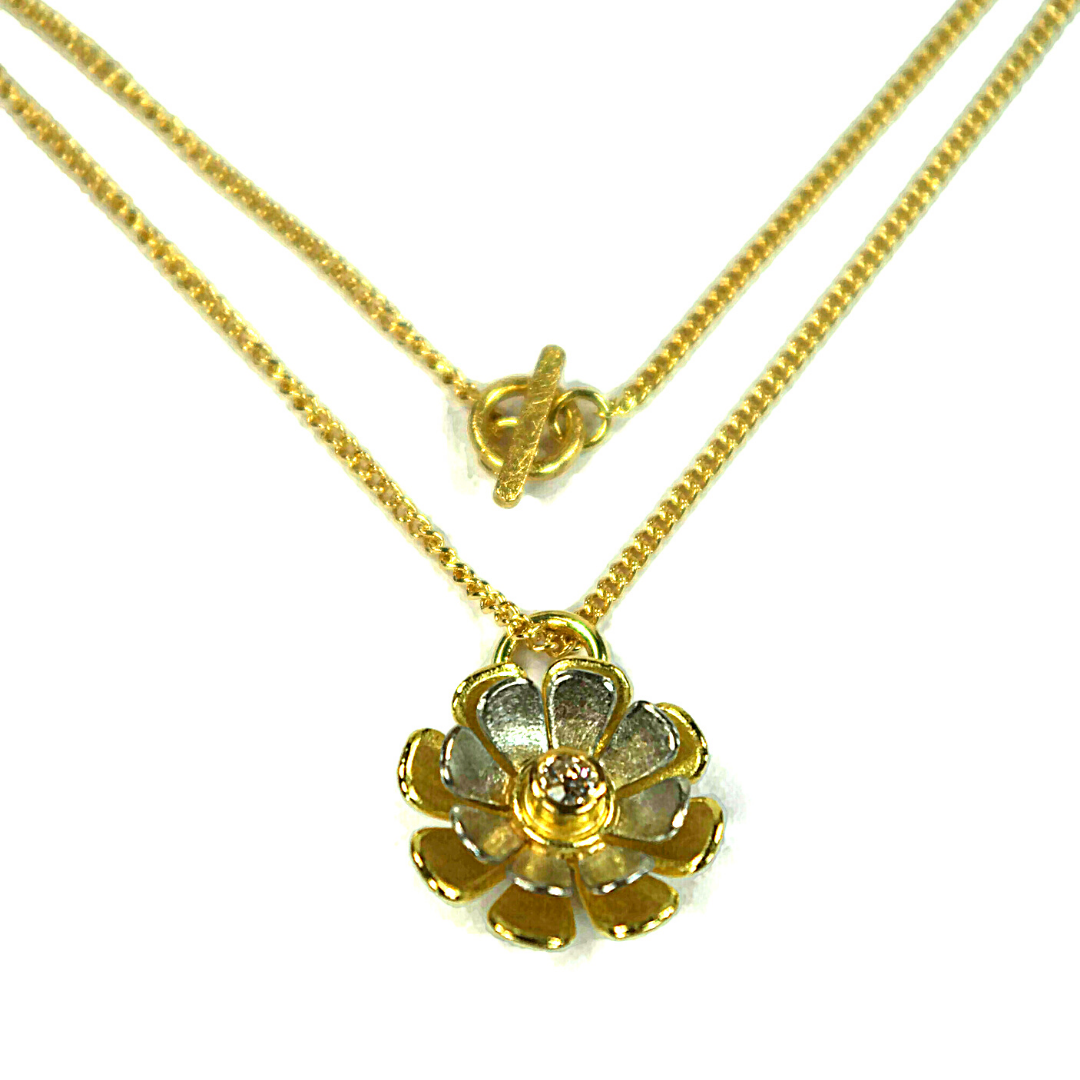 Luane's Daisy Pendant
18ct Yellow Gold, With Platinum Inner Petal Set With A Diamond
When Luane saw the piece in progress, she instantly knew she wanted a pair of earrings to match.
So we took her remaining yellow gold and made these additional cute little daisy flower heads to match and set them with 2 of her sentimental diamonds.
We added some hooks so that the daisies had a nice dangly movement - just like daisies blowing in the breeze on a spring day!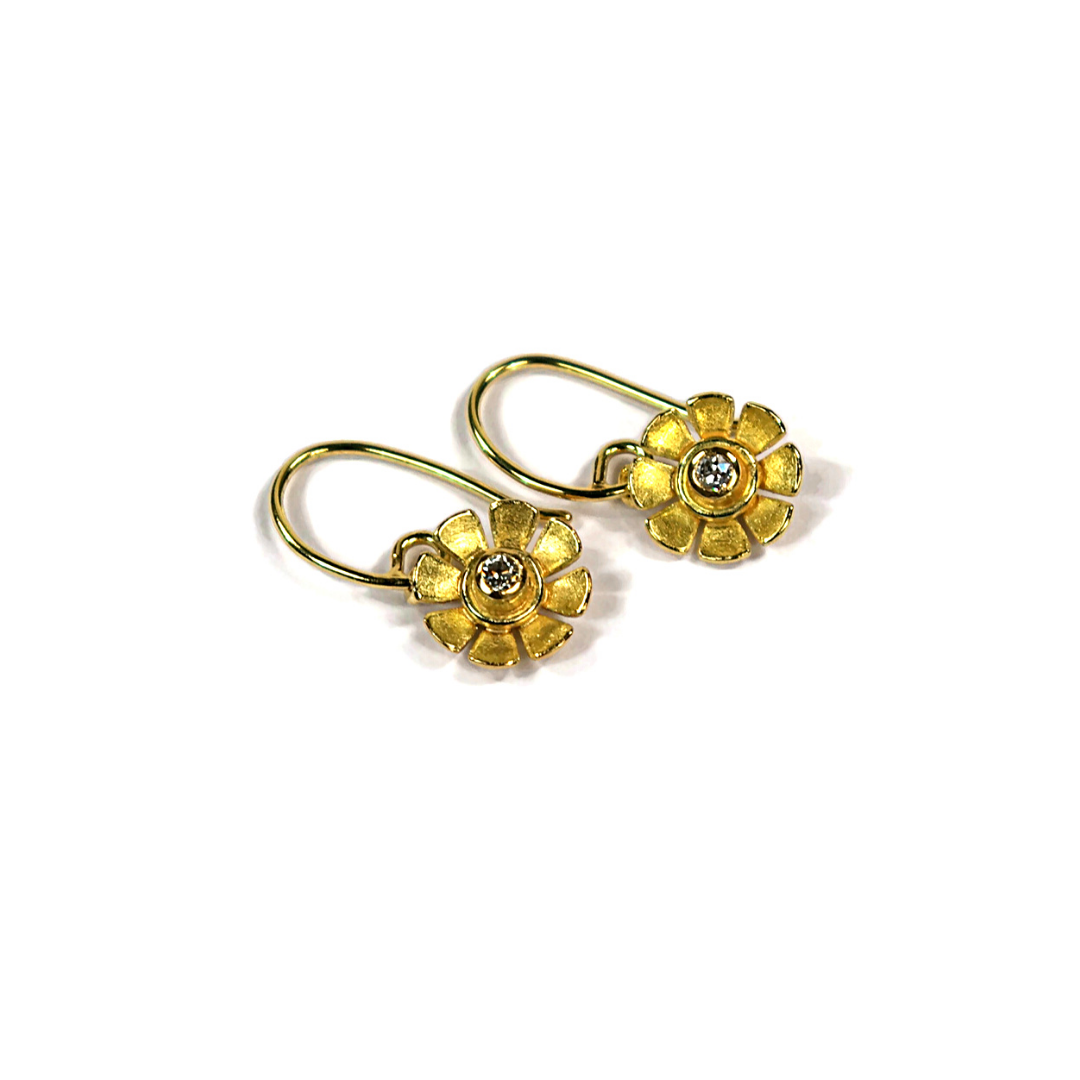 Luane's Daisy Earrings
18ct yellow Gold Set With Diamonds
I always tell my clients that when I make a piece for them, the pieces come to me with an origin story, then I add a new 'making' story through the process of new pieces and then the pieces fly out of my workshop to have another adventure and future stories are told!
So you might find it entertaining to know that in later years, one of Luane's earrings got flung out of her ear whilst she was horse riding and the horse stood on it.
It was totally flattened - like a flower that's been pressed, lol!
Of course Luane was a little shy to initially tell me, but that's the beauty of having something made for you. Yes the single earring was destroyed but I simply melted it down again, added in a little new gold and was able to re-make a new earring identical to the old one!
And so the earrings and the pendant go on again to have more adventures both on and off horses!
The warmth of the yellow gold, mixed with the white of the platinum, makes Luane's daisy pieces a really bright and cheerful set, which is in keeping with the symbolic meaning of daisies themselves.
Daisies are the birth flower of April and Taurus and can be given as a gift for 5th year wedding anniversaries. 
They have a fascinating history - even down to how the daisy acquired its name. They symbolise innocence and purity and have connections to true love, couples and motherhood!
Daisies are a token that should be worn everyday and are suitable for children as well as lovers and mothers alike!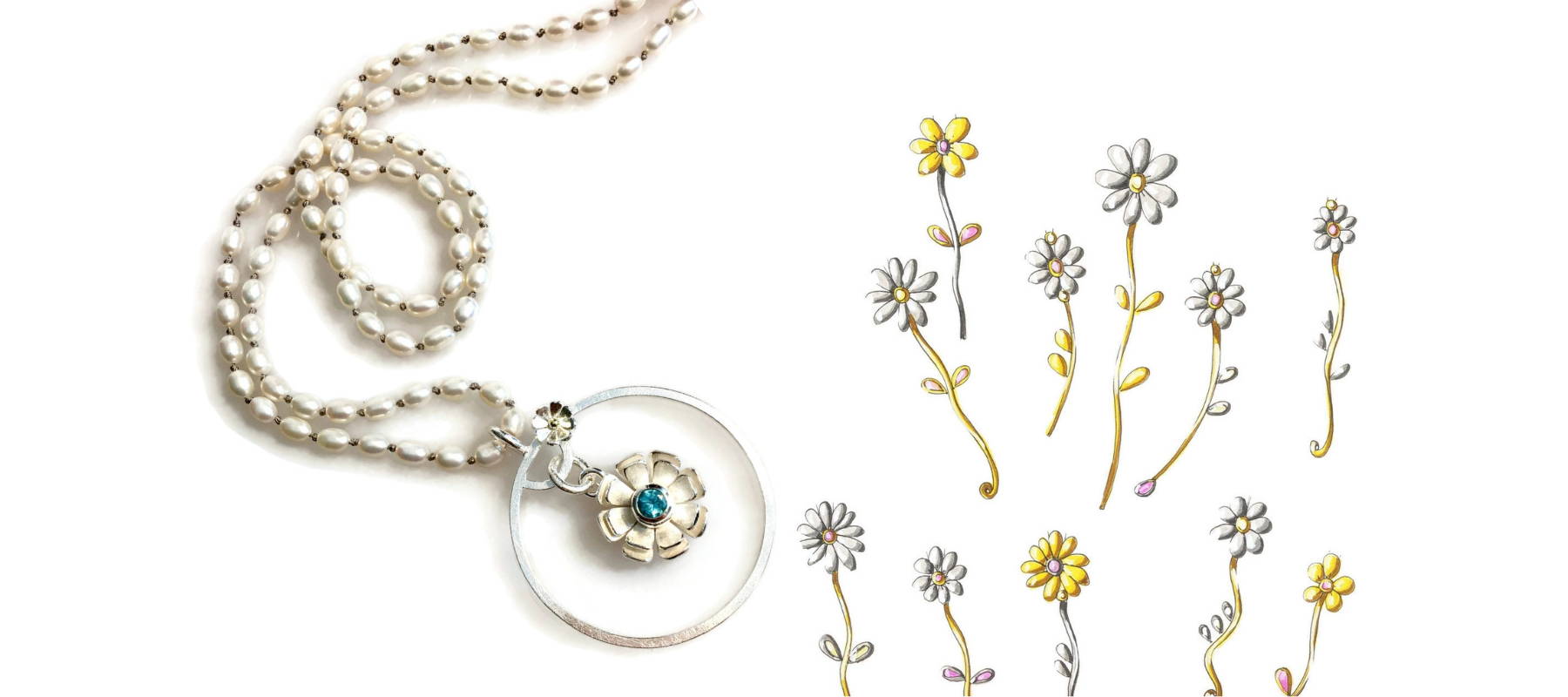 I'd even go further to say that the making of Luane's daisies, became the inspiration behind my Daisy Collection which I still make in various guises today!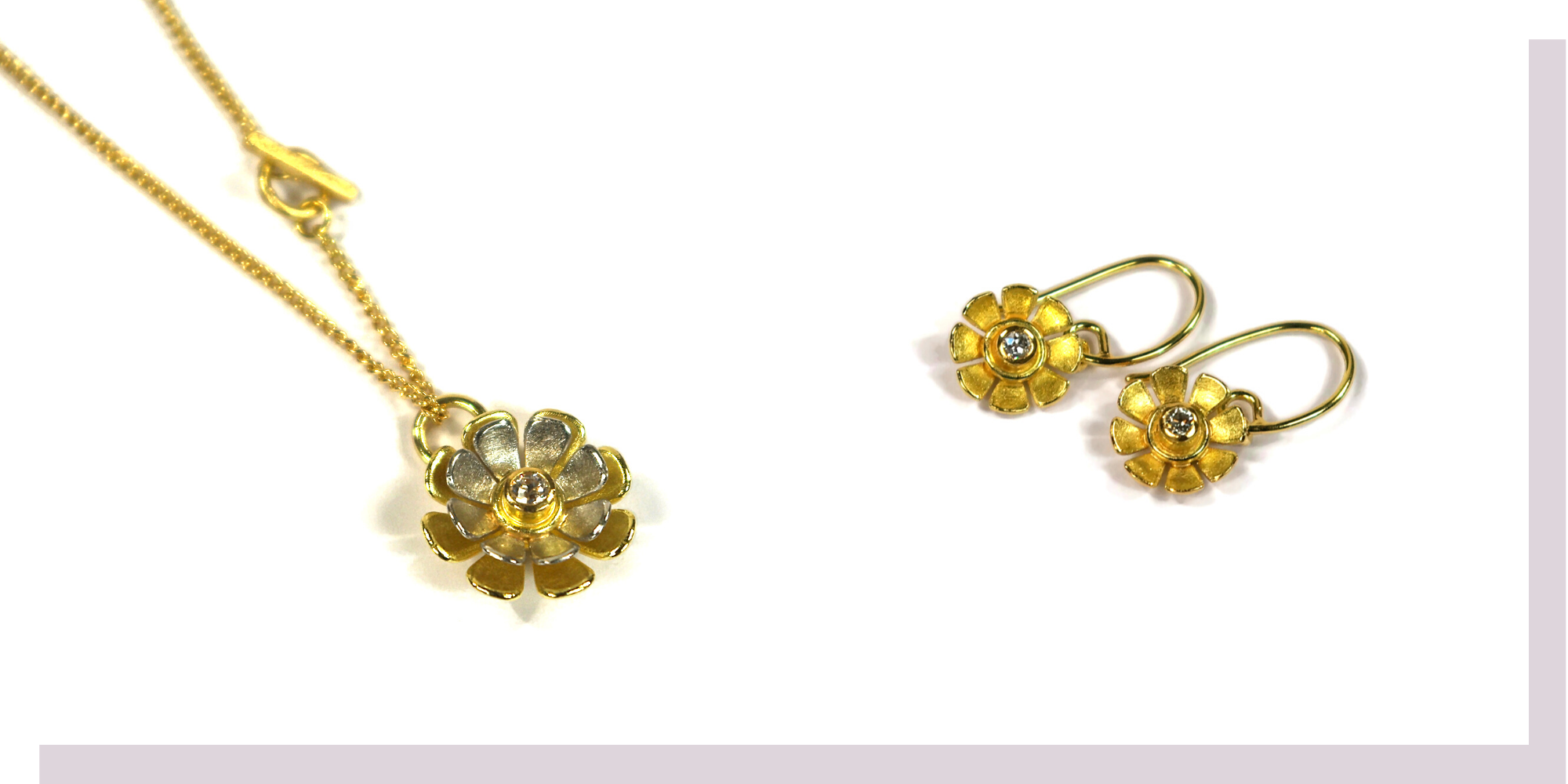 Luanes Re-Modelled Daisy Set
I'm sure you will agree that Luane's Daisies really are a very pretty and feminine floral set, 
great for everyday wear
...just maybe not for horse riding (lol)!
read Stories about Other Custom Bespoke Pendants...